UB1000-18GM-I-V1 ultrasonic sensor
Brife introduction of ultrasonic sensor
Ultrasonic sensors present the ideal solution for non-contact position and distance measurement in all industrial areas where environmental conditions such as dust, smoke or steam may affect the sensors. Objects consisting of a variety of materials can be detected to within millimeters regardless of color or shape.
The ultrasonic sensor produces a data carrier utilizing very high frequencies that are outside the human's audible range. The time it takes for that ultrasonic wave to pass between the sensor and the object is the value for the distance or the position.
Ultrasonic sensors have proven their reliability and precision in many industries and applications, including:
lumber and furniture
construction materials and equipment
farming equipment
level control applications
This voltage type analog output  ultrasonic sensor,which the sensing distance can also produce 1000mm.
Technical data
General Specifications
Sensing distance:        70…1000mm
Adjustment range:       90…1000mm
Unusable area:            0…70mm
Standard target plate: 100mm×100mm
Transducer frequency: About 255 kHz
Response delay:          About 125ms
Indicators/Operating means
LED blue        Power on
LED yellow    indication of the switching state

Flashing:program function object detected
LED red        permanently red: Error Red,flashing:program function,object not detected
Electrical specifications
Operating voltage UB:    10…30VDC,ripple10%ss
No-load supply current:   ≤45mA
Output
Output type :                           1 analogue output 4…20mA
Resolution:                              0.35mm at max.sensing range
Deviation of the characteristic

curve                                       ±1% of full-scale value
Repeat accuracy :                   ±0.1% of full-scale value
Load impedance                     0—300 Ohm
Temperature influence:           ±1.5% of full-scale value
Ambient conditions
Ambient temperature:             -25…70°C
Storage temperature:             -40…85°C
Mechanical specifications
Protection grade:                    IP67
Connection:                           Connector M12x1,4-PIN
Material 
Housing:                              brass,nickel-plated
Transducer                      epoxy resin/hollow glass sphere mixture;

Polyurethane foam
Weight    60g
Dimensions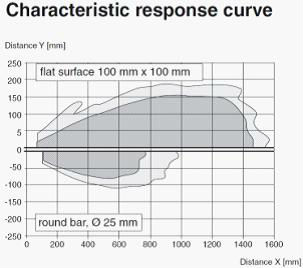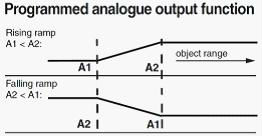 Dimensions
Electrical Connection

Pinout